On Friday the 10th of March we celebrate Solar Appreciation Day! Since 2009, every second Friday of March, we have celebrated our global progress in producing sustainable and renewable energy. We still have a long way to go but every year, we get a bit less dependent on fossil fuels and that is a great reason to celebrate.
Xtorm loves the sun!
At Xtorm, we also love the sun! With our Solar Products, we ensure all your mobile devices getting #MoreEnergy on a sustainable way. Our products feature high-quality SunPower solar cells and are made to provide energy through pure solar power. You can do more than just boost your mood with the sun's energy!
With the high cost of energy right now, it is even more important that we get used to a new way to generate power. Currently, the most affordable and clean energy is solar energy. This trend goes beyond domestic use. You can use Xtorm's solar products to charge your mobile devices via the sun in a sustainable way.
Solar Power Banks
Xtorm's Solar Power Banks are robust and splash-proof, making them perfect for outdoor use.
Our Solar Power Banks work in 2 different ways; they can be charged via a cable or with the built-in Solar Panel. Only the power of the sun is needed to receive hours of extra energy! This way, you have more than enough power during a camping-trip or festival. With a Power Bank on solar energy, you have the freedom to go wherever you want on a sunny day.
We do recommend charging your Power Station or Power Bank via a wall charger before going on a trip. In between uses, you can use the Solar Panel to recharge. This way, you will never get out of power. Read our blog 'Charging times for Solar chargers' to learn more about charging with solar energy.
Power Stations with Solar Panels
At Xtorm, you can find a lot of solar products. Besides Power Banks, we also have portable Power Stations that work perfectly in combination with our Solar Panels. If you have both with you when travelling, you can easily go off-grid and you are always assured of enough (solar-) energy for all your devices! Under our new Solar Generators. category, you will find several bundles of our Powerstations with Xtorm Solar Panels.
You can easily connect the Solar Panels to your Power Station by using the included connector. With one of the other included cables, it is possible to charge your laptop, Power Bank or drone via the Solar Panel. The different cables are included in the packaging and are delivered with your Power Station in a handy pouch.
Share your sunny moments
With the crocuses back in bloom again and the sun coming out more often, we can all be found outside a lot more. Share your sunny moments with Xtorm on Instagram using #MyXtorm! We are curious to see what the power of the sun does to you!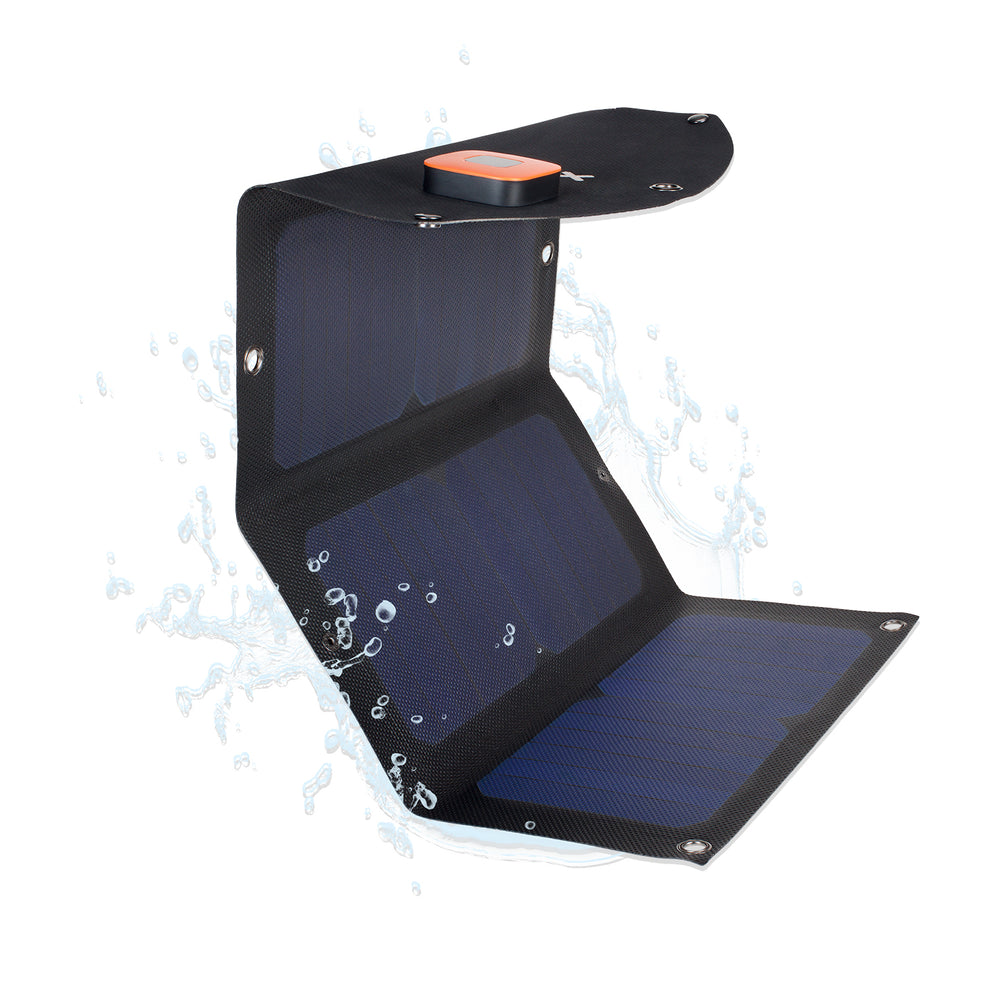 AP275U

Xtreme Solar Panel SolarBooster - 21W
21W Solar Panel
€169,00
No internal battery Charges 2 devices at the same time 21 Watts SunPower® Panel This 21 Watts SolarBooster enables you to easily use solar energy to charge your devices, anywhere you go.High yieldThis SolarBooster uses high yield SunPower® cells to charges your devices extra fast. Thanks to these very efficient cells there is minimal loss of energy during the charging process, and they even function on a cloudy day! The LCD display shows the current Ampere output of the solar panel.Easy chargingMobile devices can be connected directly to the solar panel via USB and USB-C. It's even possible to use the SolarBooster 21 Watts to charge two devices, such as a smartphone and an Xtorm power bank, at the same time. Because the SolarBooster has a high output it's able to charge devices extra quickly.Practical designThanks to the practical design and the carabiner that's included, the SolarBooster 21 Watts panel can be easily fixed on a backpack, tent or bicycle. When the solar panel is not is use it's easy to fold up and take with you. The material that's used is strong, flexible and waterproof.Features of the Xtorm 21 Watts Solar BoosterFirst-rate Solar Panels Xtorm incorporates the latest SunPower® technology, these are the best solar panels available on the consumer market.Solar efficiency This Xtorm Solar Booster is provided with SunPower® solar panels boasting the industry's highest solar efficiency ensuring the least possible loss of energy during the charging process.Auto Power Management The Xtorm 21 Watts Solar Charger is provided with the APM-chip. This means that this Solar Booster automatically balances the correct charging speed and efficiently divides the power between the attached devices.Xtorm safety checkOverload protection Xtorm mobile chargers protect the battery of the attached mobile device from overcharging. Temperature control All Xtorm Solar Boosters are provided with a temperature control chip that prevents overheating.Auto Power Management The Xtorm APM-chip automatically balances the power over the attached devices to prevent overcharging or overheating.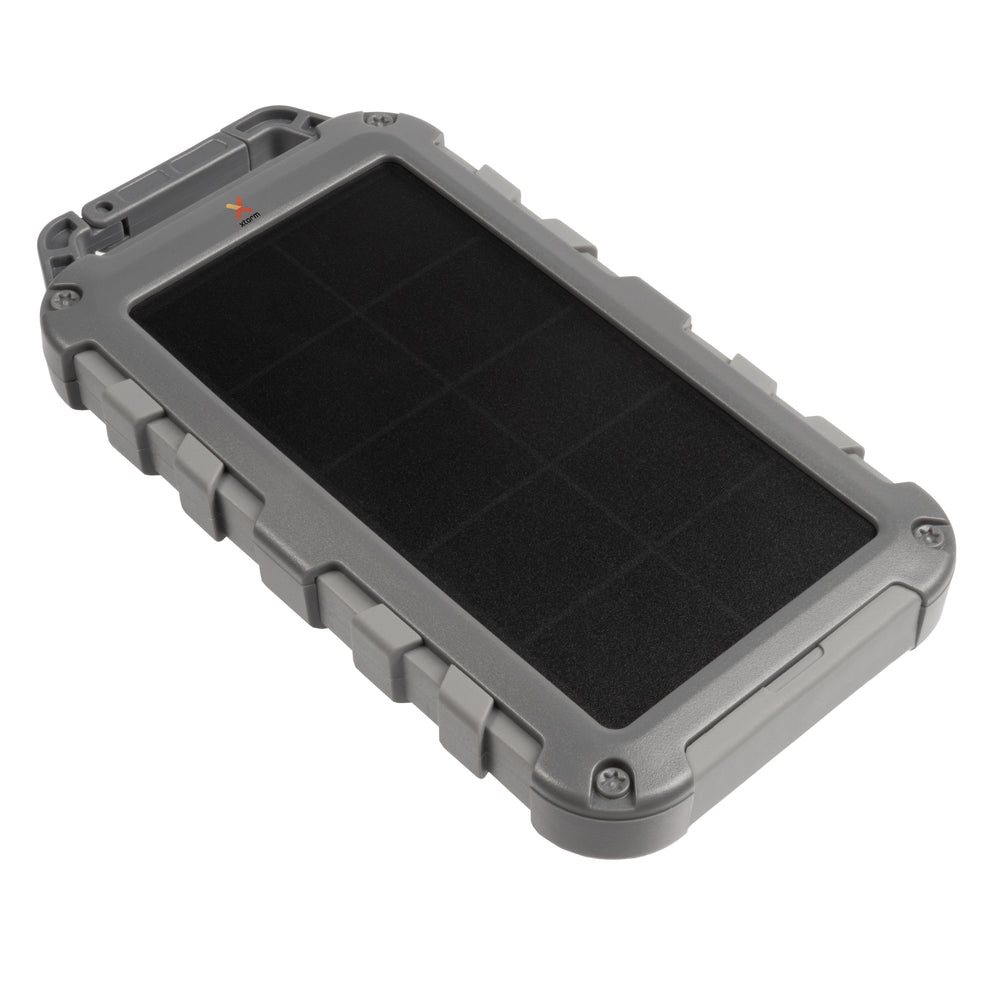 FS405

Solar Power Bank 20W - 10.000 mAh - Fuel Series 4
20W / 10.000 mAh
€59,95
10,000mAh battery 20W USB-C PD output 2x USB output Built-in SunPower® solar panel Splash-proof (IPX4) Powerful integrated LED flashlight The Xtorm 20W Fuel Series Solar Charger 10.000 is a solar charger that gives you the freedom and energy to go anywhere you want, making it perfect for all your adventures.Next Gen Power is hereThis Power Bank has all the latest tech and new features that bring you Next Gen charging speeds. It has 2 USB outputs, and one extra powerful 20W USB-C that's designed to charge your smartphone faster than ever. Fast. How fast?This Fuel Series Power Bank can charge a brand new iPhone 14 and iPhone 12/13 up to 59% in just half an hour. Compared to using an old charging brick, this is up to 3x faster!Developed with passionAt Xtorm we believe you should get joy and energy from using our products, which is why we put extra care and attention into the design and user friendliness of our power banks. Giving #MoreEnergyThe solar charger is equipped with a 10,000mAh lithium-polymer battery, powerful enough to charge a smartphone at least 2x. The charger also features a 20W USB-C output that fast charges your smartphone, so you're always ready to go.Powered by the sunThe Solar Charger itself can be recharged in two ways, either via USB-C, or by taking it outside and let the built-in solar panel do its work. Made for adventureThe Solar Charger is splash-proof, drop-resistant, and has a powerful integrated LED flashlight, making it the perfect solar charger for all your outdoor adventures. With the large internal battery and powerful solar panel you will always have some extra energy at hand, wherever and whenever needed!Solar recharge timeA wide variety of factors have an impact on how fast the sun is able to recharge your Solar Charger, like the season, location, time of day, and of course cloudiness.To give you a clear picture how much free power you can expect from the built-in solar panel, we provide 2 different scenarios below to illustrate the difference in charging speed. How long it takes to fully recharge your Solar Charger:1. On a mostly sunny day in spring or summer, it takes around 10 days2. On a mostly sunny day in fall or winter, it takes around 20 days As you can see, we haven't given an example of how long it takes to recharge on mostly cloudy days. This is because, unfortunately, solar charging is really not effective enough in these conditions.At Xtorm we use the high efficiency SunPower solar cells to provide as much power as possible from a small surface area. Are the charging times listed above not as fast as you would like? Don't worry, at Xtorm we have solar chargers and panels in all sizes. Check out our other products to see which suits you best!