Christian, 34 years old, is about to experience his greatest climbing adventure ever; in mid-April he will take on the challenge of reaching the summit of Nuptse. "So far there have only been 22 successful ascents of this mountain." Curious about his preparations and what it takes to go on such an expedition? Christian would love to take you on his adventure!
Making dreams come true
Ever since I was young, I have loved the outdoors. I was a climber, but in a completely different way. I knew every tree in the street from the bottom root to high up in the tree. I went to the mountains for the first time when I was in my 20s. I fell in love immediately. It still took some time before I actually climbed my first mountain, but once I did, I knew it wouldn't be my last.
My dream is to climb all 1000 meter increments. Meaning I would like to climb 1000 meters, 2000 meters, 3000 meters all the way to 8000 meters. I am curious to see what I am physically capable of, but combined with some technical challenge.
Last year I stood on three 6000 meter mountains, including the challenging Cholatse (6440m). This year's focus is on 7000 meters. The plan is to do an alpine style ascent of Nuptse in mid-April. This is a mountain in the Himalayas in Nepal and is 7861 meters high. An extreme adventure because each route to the summit is particularly technical, combined with the high altitude.
The style in which I climb is important to me. We climb in the so-called alpine style. Unlike expedition style I climb in a small team, only with one other climber, without using fixed ropes or altitude carriers and without supplemental oxygen. This style is extremely demanding both physically and mentally.   
If we have climbed Nuptse successfully, we will also make an attempt on the neighboring mountain peak Lhotse right away. This mountain is a whopping 8516 meters high.
My way to the top: how I have prepared
Training, training, training. I make my own training schedule, but obviously based on a lot of research and experience. On average, I train at least 2 hours a day. I apply a mix of cardio, strength and climbing. For cardio training, I run a lot, with an endurance run of at least 25 kilometers every week. In addition, I have specific strength training for "muscular endurance," so that my muscles keep working even when I am asking the most of my body. I also climb in the hall about twice a week, a useful, but above all fun training.
You can control your preparation, but external factors you cannot control. For example the conditions of the mountain, how much fresh snow there is, the weather, your physical condition at altitude. These are factors that cannot be influenced, they require judgment and adaptability. The bottom line is that all factors must cooperate to make a climb like this a success. Your mindset should be that you are going to be successful, but also realistic that not summiting is a potential outcome. Ultimately, returning safely to basecamp is most important.
The contents of my backpack
It's a full backpack. Even though I try to pack minimalistic, a lot ends up going with me. In terms of clothing, I take lots of layers. Up to a very thick down suit to cope with temperatures that can drop to -30. The heaviest part of my backpack is all the technical gear. Think about ice axes, ice screws, carabiners, ropes, etc. Despite our relatively light climbing style, there is a lot that has to go with us to get to the top and back down properly and safely.
In addition, I have quite a few electrical devices with me. Like an action cam, phone, GPS/Satellite connection, watch with altimeter, headlamp and heated gloves. The latter are important because, unfortunately, I cannot put on thick mittens because of the use of my ice axes.
In order for all these devices to actually work, power sources are needed. On the mountain, of course, there is no power available. I am therefore incredibly happy with the powerful Power Banks from Xtorm which, together with the Solar Panel, will ensure that I stay warm, can take beautiful pictures, make contact in case of emergency and see something in the dark.
One step at a time
An adventure like this is not the result of six months of training, a year of climbing or having a nice dream. It is a sum of years of experience with successes and setbacks. Allow yourself that preparation and take it one step at a time. Start nearby, start small, the big and grand will come naturally if you are willing to go all the way.

Curious about the course of Christian's adventure and whether he manages to successfully climb Nuptse? Then keep an eye on Xtorm's socials or follow Christian himself on Instagram: @christian.de.jong
Christian's Power Products 
Christian's Power Products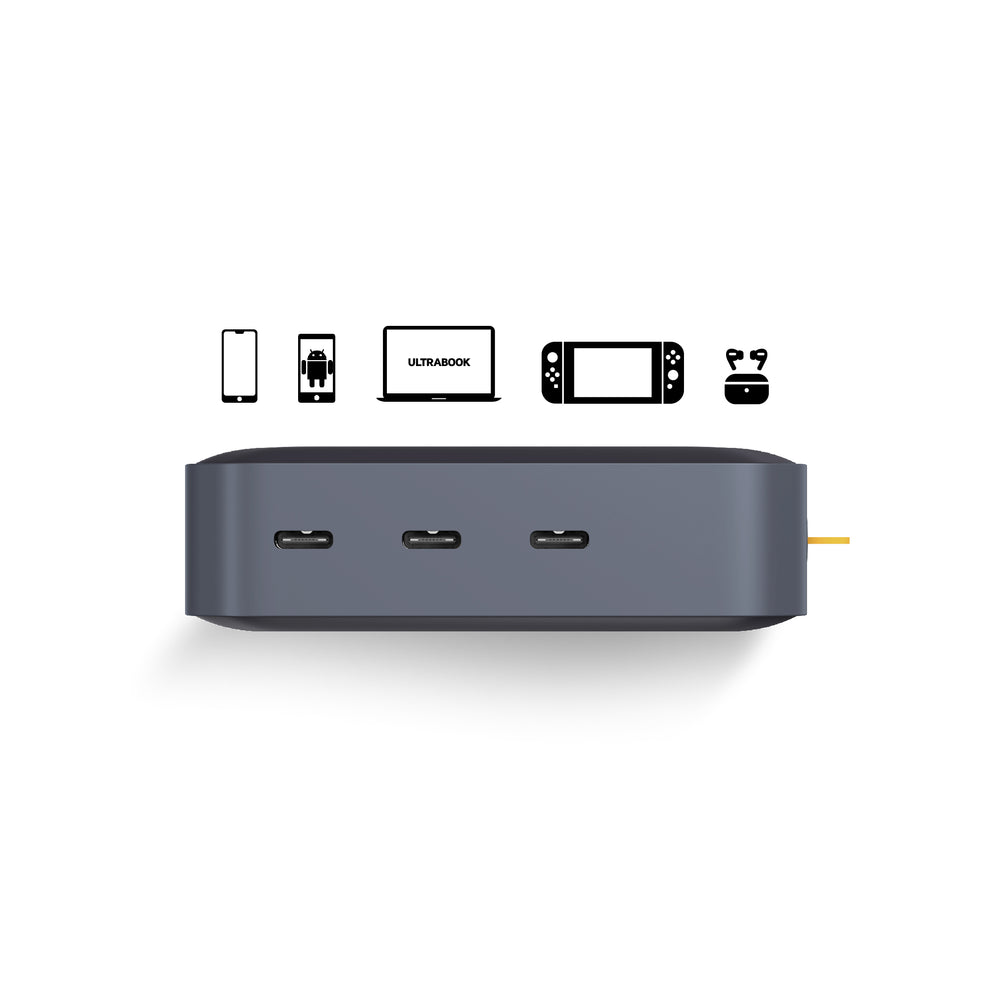 XB401

Power Bank Titan 60W - 24.000 mAh - XB4
60W / 24.000 mAh
€99,00
€159,00
Powerful 60W USB-C PD output 3 USB-C PD outputs 24.000 mAh battery capacity Power: 90W (max) Laptop fully charged in 2 hours  Integrated magnetic USB-C cable Sustainable materials (In-)visible LED battery indicator Iconic design The XB4 Titan Power Bank seamlessly combines its iconic design with class-leading specifications, sustainable materials, and innovative features. It's the perfect Power Bank to fast-charge your Ultrabook, tablet and smartphone. Thanks to the built-in cable you're always ready to charge on-the-go!The ultimate laptop Power BankThe Titan packs 3 powerful USB-C PD outputs, with a combined total output of 90W. The 60W USB-C PD port is optimised to charge Ultrabooks and other lightweight laptops, it fully charges them in only 1,5 hours. The other USB-C PD outputs are highly suitable to charge your smartphone or tablet. Extra fast rechargingThanks to the 60W USB-C PD input, the Power Bank itself can be fully recharged and be ready to use in under 2 hours. It even supports pass-through charging, so you can charge other devices even while the Power Bank is being recharged!Moving towards a sustainable futureIn a push to move towards a more sustainable future, we've incorporated the use of recycled plastic into the body of our Power Bank. Even our packaging is made from recycled materials. Our products are built to last. This way we fight the replacement market. A design that feels goodDesign goes hand in hand with user-experience. This is why we pay special attention to details; like a smooth soft-touch finish, a carefully integrated magnetic USB-C cable, as well as the LED battery display that only appears when needed. Re-imagining the battery displayThe LED battery display in the Titan perfectly blends into the overall design of the Power Bank. Its retro inspired pixelated design only appears when needed, showing the actual battery percentage and charging status. When turned off, the display is totally invisible – making the design of the Power Bank stand out even more, remaining clean minimalistic.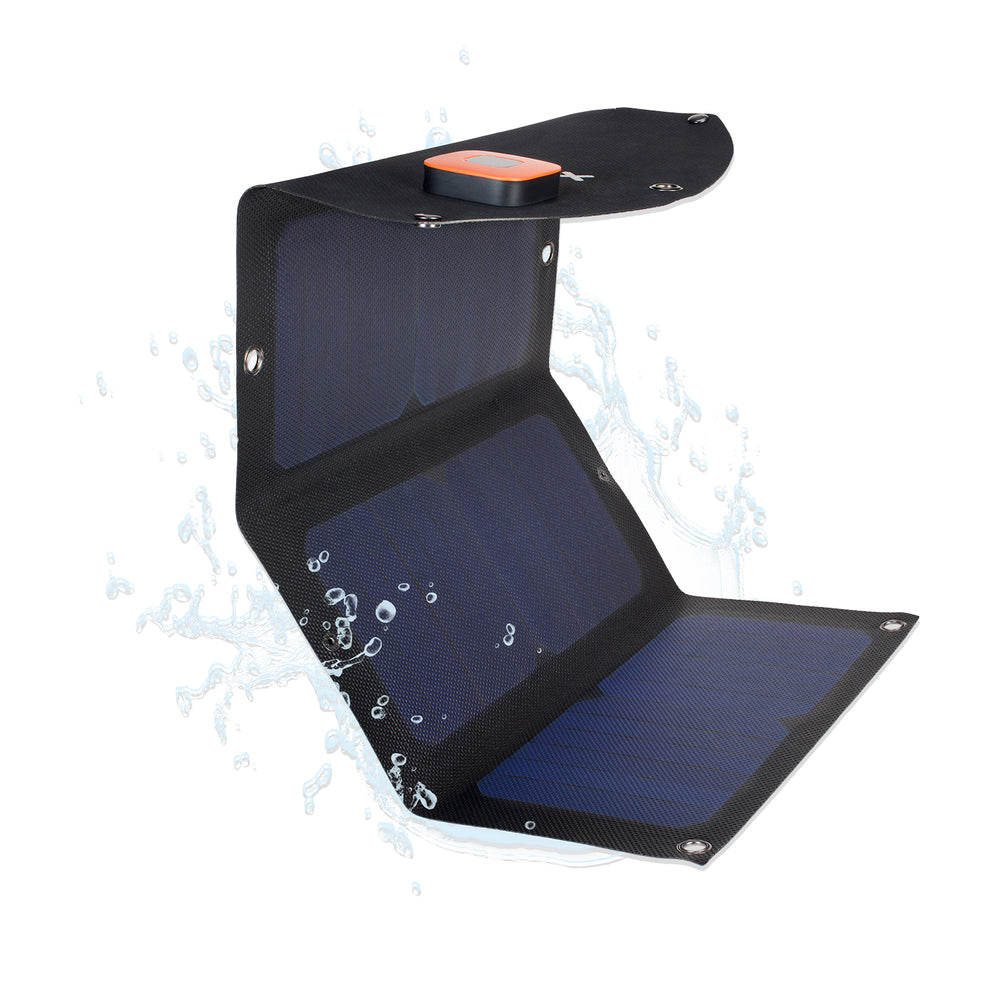 AP275U

Xtreme Solar Panel SolarBooster - 21W
21W Solar Panel
€169,00
No internal battery Charges 2 devices at the same time 21 Watts SunPower® Panel This 21 Watts SolarBooster enables you to easily use solar energy to charge your devices, anywhere you go.High yieldThis SolarBooster uses high yield SunPower® cells to charges your devices extra fast. Thanks to these very efficient cells there is minimal loss of energy during the charging process, and they even function on a cloudy day! The LCD display shows the current Ampere output of the solar panel.Easy chargingMobile devices can be connected directly to the solar panel via USB and USB-C. It's even possible to use the SolarBooster 21 Watts to charge two devices, such as a smartphone and an Xtorm power bank, at the same time. Because the SolarBooster has a high output it's able to charge devices extra quickly.Practical designThanks to the practical design and the carabiner that's included, the SolarBooster 21 Watts panel can be easily fixed on a backpack, tent or bicycle. When the solar panel is not is use it's easy to fold up and take with you. The material that's used is strong, flexible and waterproof.Features of the Xtorm 21 Watts Solar BoosterFirst-rate Solar Panels Xtorm incorporates the latest SunPower® technology, these are the best solar panels available on the consumer market.Solar efficiency This Xtorm Solar Booster is provided with SunPower® solar panels boasting the industry's highest solar efficiency ensuring the least possible loss of energy during the charging process.Auto Power Management The Xtorm 21 Watts Solar Charger is provided with the APM-chip. This means that this Solar Booster automatically balances the correct charging speed and efficiently divides the power between the attached devices.Xtorm safety checkOverload protection Xtorm mobile chargers protect the battery of the attached mobile device from overcharging. Temperature control All Xtorm Solar Boosters are provided with a temperature control chip that prevents overheating.Auto Power Management The Xtorm APM-chip automatically balances the power over the attached devices to prevent overcharging or overheating.